Adelante Progressive Caucus 2020 Election
What is your vision for APC?
Are you passionate about policy?
Do you want to help progressive candidates get elected?
Would you like to focus on accountability and transparency in the party?
Bring your vision and energy to APC where you can help to organize around progressive goals and initiatives!
APC has several leadership positions up for election this fall.
In October, we will be filling these positions: 
Please consider stepping up and taking on a leadership role in Adelante.
Nominations are now closed.
There will be a membership meeting, Wednesday, September 30, 6:30 p.m., for the purpose of meeting and questioning the candidates, and to discuss the proposed bylaws revisions.
Voting will commence at noon on October 1st, 2020. Voting will be electronic, via email. Voting will close at noon on October 14, 2020 and the results will be announced as soon as possible afterward.
Terms and Duties of Officers
Terms:
The Chair, Secretary, Treasurer and one At-Large Member will serve for two years. 
Duties of Officers: 

The Chair shall have general supervision of the affairs of the Caucus. He or she shall serve as the principle spokesperson of the Caucus. 
The Secretary shall prepare and submit all Reports as necessary under the Rules of the DPNM. The Secretary shall maintain and verify the membership roster.
The Treasurer shall manage the Caucus finances including managing Caucus assets and debts, preparing the annual budget and getting it approved by the Executive Committee, and preparing quarterly financial statements.
The At-Large Officers shall be responsible for assisting the Executive Committee as needed.
For more details please refer to our bylaws.
Police Brutality and Racial Injustice in New Mexico:
What Progressives Can & Must Do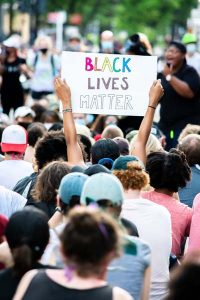 We all watched in horror as the life went out of George Floyd under the impassive knee of the sadistic little man in blue on May 25th in Minneapolis. Since then, uprisings against police brutality  and racial injustice have swept the country and the world. New Mexico is no exception. Nor should it be, given in particular the squalid record of killings and other rank abuses of power by a militarized police force in Albuquerque.
Albuquerque Area
Under immense public pressure, Albuquerque's Mayor Tim Keller has announced an intention to establish a new cabinet-level department of city government dedicated to dealing with many of the problems that police have up to now been handling–mental illness, homelessness, addiction, public drunkenness, abandoned cars and similar matters. The new Albuquerque Community Safety Department will dispatch unarmed, specially trained professionals to address such problems in a sensible nonviolent and caring way that recognizes the deep structural problems that produce so much of this misery–namely, poverty and social injustice. This groundbreaking measure could well serve as a model for other cities around the country.
Mayor Keller will look at "restructuring and reallocating resources" so as to build funding of the new department into the budget he'll submit to the City Council in August, a budget to be discussed and likely made final by the end of October. Renewal of the APD contract with the city has meanwhile been postponed for review regarding stipulations designed to protect officers from being held accountable for abuse and misconduct.
It's up to those of us who live in the Albuquerque metro area to let both the Mayor and our City Councilor know where we stand on the interrelated issues of police violence and community well being. Please tell them you want to see the police demilitarized and held to account for violations of their duty to protect and serve, and that you commend creation of the Albuquerque Community Safety Department and want to see it fully funded and operative as soon as possible:
In conjunction with that, Albuquerque City Council President Pat Davis conducted a voter survey on how to restructure the city budget in terms of what the Police Department needs for law enforcement and what the community needs to improve the conditions that produce dysfunction and sometimes crime. The results of this survey will no doubt be brought to bear during City Council deliberations on the new Community Safety Department and related measures designed to ensure the well-being of the people of this city.
You can see the results of the survey here.

READ MORE
June 1 was a very dark day
I expect you have all heard that Trump is threatening to send troops in across the country if state and local leaders don't crack down.
As a former Marine, I can say this is the wrong use of the military. Service members swear to support the Constitution, which has been desecrated since Trump took office. They also swear to obey the president – but that applies only to lawful orders.
Part of me has always been afraid of Trump doing something like putting the military on American streets – or worse. And part of me thought the situation would never get this bad.
I admit that sometimes I feel like my political efforts seem like spitting into the wind. But we must never give up. Besides our standard voting and campaign help, there is more we can do.
If there are any demonstrations in your area, I encourage you to participate. And I wish for everyone's safety.
I recognize that Adelante is overwhelmingly white and non-Hispanic. While the caucus works to be more inclusive and representative, we need to use our privilege to work for justice for our brothers and sisters. More information on that will be coming.
In solidarity,
Maurreen Skowran
Chair
Adelante Progressive Caucus
Native Americans need help with COVID-19
Native Americans have been hit hard by COVID-19. Half of the state's cases are among Native Americans (or Alaska Natives), although they are only 11 percent of the state's population.
The disease is devastating the Navajo Nation. As of April 24, it had the third-highest infection rate in the country (according to NPR).
You can donate to the Navajo Nation Covid-19 Fund.
Early leaders of the Adelante Progressive Caucus at the first membership meeting, October 12, 2018, in Roswell.