Police Brutality and Racial Injustice in New Mexico:
What Progressives Can & Must Do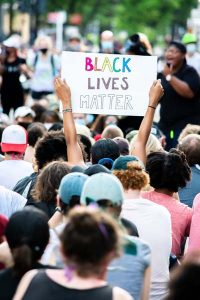 We all watched in horror as the life went out of George Floyd under the impassive knee of the sadistic little man in blue on May 25th in Minneapolis. Since then, uprisings against police brutality  and racial injustice have swept the country and the world. New Mexico is no exception. Nor should it be, given in particular the squalid record of killings and other rank abuses of power by a militarized police force in Albuquerque.
Albuquerque Area
Under immense public pressure, Albuquerque's Mayor Tim Keller has announced an intention to establish a new cabinet-level department of city government dedicated to dealing with many of the problems that police have up to now been handling–mental illness, homelessness, addiction, public drunkenness, abandoned cars and similar matters. The new Albuquerque Community Safety Department will dispatch unarmed, specially trained professionals to address such problems in a sensible nonviolent and caring way that recognizes the deep structural problems that produce so much of this misery–namely, poverty and social injustice. This groundbreaking measure could well serve as a model for other cities around the country.
Mayor Keller will look at "restructuring and reallocating resources" so as to build funding of the new department into the budget he'll submit to the City Council in August, a budget to be discussed and likely made final by the end of October. Renewal of the APD contract with the city has meanwhile been postponed for review regarding stipulations designed to protect officers from being held accountable for abuse and misconduct.
It's up to those of us who live in the Albuquerque metro area to let both the Mayor and our City Councilor know where we stand on the interrelated issues of police violence and community well being. Please tell them you want to see the police demilitarized and held to account for violations of their duty to protect and serve, and that you commend creation of the Albuquerque Community Safety Department and want to see it fully funded and operative as soon as possible:
In conjunction with that, Albuquerque City Council President Pat Davis conducted a voter survey on how to restructure the city budget in terms of what the Police Department needs for law enforcement and what the community needs to improve the conditions that produce dysfunction and sometimes crime. The results of this survey will no doubt be brought to bear during City Council deliberations on the new Community Safety Department and related measures designed to ensure the well-being of the people of this city.
You can see the results of the survey here.
To learn more: Nob Hill Indivisible is sponsoring a June 24th 6-7:30 p.m. Zoom panel discussion on current policing practices in Albuquerque, the obstacles to reform, and what is needed going forward. The panel features sociology researchers Dr. Paul Guerin and Dr. Maria B. Velez, Community Police Oversight Agency Executive Director Edward Harness, and Community Policing Council member Kathleen Burke, with Q & A to follow their presentations. Pre-registration is required; to sign-up, click here. After registering, you will receive a confirmation email telling you how to join the meeting.
Statewide
There were a number of relevant legislative initiatives in the works at the NM state level in the recently concluded special session. One that passed was SB 8, sponsored by Senator Joseph Cervantes. SB 8 requires law enforcement officers to wear body cameras, and it requires revocation of police officer certification for any officers convicted of using unlawful force.
Other proposals did not fare as well.
In the regular legislative session earlier this year, State Senator Antoinette Sedillo Lopez introduced SB17, a police accountability bill on use of force, as a much-needed first step towards further reforms. This bill would require an official reporting process when civilians are seriously harmed or killed by police, require independent investigation, and increase independence of prosecution. For more on this and related topics, listen to the interview with Senator Lopez on the KANW radio show Report from Santa Fe that aired June 22nd.
It's important for us to let Governor Michelle Lujan Grisham know that we feel SB17 to be high priority for passage and implementation as soon as possible. Call her office at 505/476-2200 or email her here. Along with that, please also tell your state legislators that you support the bill; you can find them here.
Other legislative matters you'd do well to mention in your communications with the governor and with your state senator and representative:
Support Senator Moe Maestes's advocacy for eliminating the "qualified immunity" provision that allows police officers to escape lawsuits for constitutional violations. His proposal would empower citizens to bring civil rights cases before state judges and make it possible for those subjected to police abuse to sue the perpetrator. The governor has supported a statute to form a state commission to explore the qualified immunity issue; thank her for that and tell her you want to see this investigation put on a fast track.
Some other reforms under discussion to include in your lobbying: ban on chokeholds, making police disciplinary records public, and outlawing racist hiring practices.
For fuller information on what happened in the final days of the special legislative session regarding police reform and racial justice, check out the Retake Our Democracy report (scroll down to that section).
Retake Our Democracy offers services that may be of interest as we continue to work for a New Mexico that is a decent and safe place to live for all members of our diverse community. Among these is a Transformation Study Group that is researching the urgent issues we face during this time of multiple converging crises. This study group is commissioned to develop background materials for progressive activists, legislators, and public officials to draw on in envisioning a more human future and in doing what it takes to get us there.
Besides Adelante, there are many progressive NM organizations working for police reform, racial justice, and other crucial improvements to the way things are. If you're looking to get involved in the grassroots organizing that's going on in lead up to the fateful fall election, in addition to the groups already mentioned, you can check out the Progressive Democrats of America, Central NM Branch, and Our Revolution New Mexico.
Now more than ever the world needs you. Keep on keeping on and be of good cheer.
–By Jerilyn Bowen
6/22/20